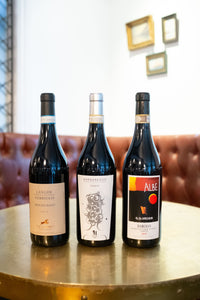 Are you an Oenophile who enjoys trying new varietals, wine styles and unique wine regions? Are you newer to wine and are looking to learn about terroir, food pairings or wine making processes? Do you have a special takeout meal you like to do once a month and would love to take all the guess-work out choosing your wines?
If you answered yes to any of these questions, the Wines of NoNa: Monthly Subscription package may be right for you. 
Our Wine Director selects 3 or 6 bottles from the North & Navy Cellar and curates a collection which will be delivered to you once a month—every month.
Your wine collection also includes a variety of light snacks like cheese, house-cured salumi, chips, nuts, chocolate, meant to pair with selected wines. Additionally you could order any of our coursed meals or menu items and sync them to your monthly delivery, for a complete wine-and-dine experience. 
Your collection includes comprehensive tasting notes and a link to exclusive content curated just for you!
*image is only suggestion of possible collection